The Beginning – First Season 1979-1980
Kiltullagh Pioneers was founded in August 1979 by a group of local people interested in taking part in the local Galway Football Association leagues. At the time in Kiltullagh there existed a progressive group called Kiltullagh Sports Centre which organized and ran a number of local activities such as Kiltullagh Tennis court and a wide range of other activities for the youth of the area. Looking to advance the range of activities a group met in August of 1979 to look into setting up a soccer club. At a well-attended meeting Kiltullagh Pioneers AFC was created with the first set of officers elected
Chairman: Michael McGloin
Secretary: Patrick McGloin
Treasurer: Nora Gibbons
Committee: Christy Corcoran, Seamus Cannon, Stan Lawless
We as a club are lucky that the original minute's book exists and we can draw from it when detailing the birth of the club.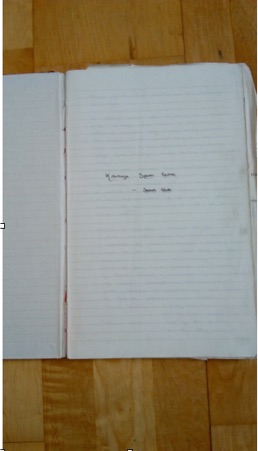 Minutes of the first meeting of the Kiltullagh Soccer Club
The meeting opened with Mr Jimmy Finn, Chairman of the Kiltullagh Sports Centre in the chair. Attendance included John + Michael Martyn, Seamus + Gerry Cannon, Patrick + Michael McGloin, Stan, Fintan, Liam, John + Sean Lawless, Frank Duane, Mary Maloney, Gerry + Joseph Murphy, Christy Corcoran, Kevin + Martin Kelly. Apologies were received from Nora Gibbons.
The meeting commenced with a discussion as to whether the new club should be independent or a subcommittee of the existing Sports Centre. It was decided to opt for the latter choice.
Election of Committee: Michael McGloin was proposed for the chair by Stan Lawless + seconded by Christy Corcoran. Michael was deemed to be elected – there been no other proposals.
Patrick McGloin was proposed as secretary by Christy Corcoran + seconded by Liam Lawless. Nora Gibbons proposed by treasurer by Christy Corcoran + seconded by Stan Lawless.
Funds:
It was decided that funds would be requested from Kiltullagh Sports Center in the form of a loan. Fund raising was put on the agenda for next meeting.
Name of team:
Stan Lawless proposed that the team be called the "Pioneers". This was seconded by Patrick McGloin + passed.
Galway League:
It was unanimously agreed that the club should enter a team in the Galway League. The Chairman undertook to see to this.
Registration:
It was agreed by all present that players would pay their own registration fees. Non-members of the Sports Centre would be asked to pay £5.00 + would cover the cost of registration.
Indoor Soccer:
The secretary was asked to write requesting the use of Loughrea Gym for indoor soccer in coming winter months.
Insurance:
frank Duane asked if it would be possible to have the soccer players insured. Sean Lawless agreed to contact Sean O'Donnell, Loughrea + Patrick McGloin was to contact Gerry Nevin about this.
A meeting of the club was arranged for Aug 23rd Proposed : Liam Lawless Seconded : John Lawless